Blizzard announced their newest set of content that will be coming in the next content patch.  I think there were a lot of frowns when they heard what was coming.  People were expecting Ragnaros.  However what people did not see coming was a re-release of Zul'Aman and Zul'Gurrub as level 85 heroic dungeons.  The main reason for this was because of its 20-man nature people still soloed their way through this for unique mounts, reputation of course the turtle polymorph.  The removal of this dungeon was the removal of a lot of hardwork that people put forth grinding out this raid week after week.  The announcement of these dungeons got mixed reactions.  Most of them were not so positive.
Blizzard has had a history since Burning Crusade of recycling content and today… we're going to go through the list.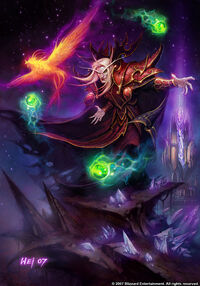 Tempest Keep was Just a Set Back!
The first piece of recycled content we saw in this game comes in the form of Kael'Thas Sunstrider the final boss of The Tempest Keep.  No matter what people tell you Kael'Thas died in Tempest Keep.  Nihilum was the first guild to notice that blizzard changed the death animation of Kael'Thas Sunstrider when Black Temple was released… probably because they were the first people to attune their whole guild.  The old Kael'thas actually dies, he has a corpse.  The new animation they released shows him vanishing and all you see left of him was a cloak.
This was done with a specific agenda, they didn't want Kael'thas to be dead just yet.  In fact, Tempest Keep was just a set back.  Kael'Thas who is still thirsty for magic is moved to Magister's Terrace.  Blizzard said that Kael'thas was the single greatest fight they ever designed and yet less than 0.5% of the gaming population got to see it and only 2% got to see it after severe nerfs and out gearing from Sunwell level badge of justice gear.  They simplified the fight to be handled by a 5-man but left the core elements of the fight in there.  What you got was your phoenix which had to be kited and killed with an egg that also had to be killed.  You got shield that had to be DPSed down so that the one-shot pyro could be interrupted.  You got the phase 5 where you're floating in the air and have to  dodge balls of doom.  Then you got this awesome moment, the kill.
This was a pretty well tuned transition that for people who could not do the Kael'thas fight in Tempest Keep… was fun.  On top of that it fit into a quest line and actually made sense lore wise.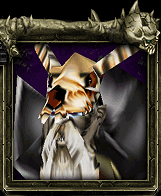 My Being Transformed into a Phylactery Was Just a Set Back
So in the original Naxxramas quest line your final goal is to take a phylactery to a dude with the Argent Dawn.  The phylactery of course is supposed to be Kel'thezzad's soul since you cannot truly kill this lich (who was killed once already in Warcraft 3).  Kel'thezzad was truly the innovator of the theme of recycled content as he was a boss who just could not stay dead.
When Blizzard designed Naxxramas they designed it around the most elite guilds and so only 9-10 guilds actually finished this dungeon.  So in this way even less people finished this encounter.  Even at level 70 people were unable to get together successful raids to down this content (whereas they could kill every single other final end raid boss in that tier of content).  Blizzard took this as an immediate sign that they needed to reissue this content.
So a little revisionism of history was necessary.  One absolute necessary change was the obliteration of any Ashbringer related lore.  The word Ashbringer was just removed from the game.  In one quest a line is actually just deleted making reference to all the circumstnace of the Ashbringer without mentioning the name of the weapon he is describing.  In Naxxramas the "Ashbringer" was Mograine son of Darion (head of the Knights of the Ebonblade).  In order to make the Death Knight story work they make it so that Darion slays his father and takes the corrupted sword back where it becomes purified thus freeing the death knights from the Lich King.
Mograine was replaced by Baron Rivendare, probably the most famous boss in vanilla.  He was required for people to get their 0.5 tier items in a speed run meaning that anyone who wanted to raid probably ran into this guy quite a few times.  Considering how close his main ability was to Morgraine's it was a proper switch.
The big change of course is KT.  As said his soul was stored in a phylactery and given to the argent dawn.  Blizzard removed the turn in NPC for that quest just before Wrath went live and made sure that you knew that he was actually working for the scourge.  Yes the man who sent you and gave you tools to kill KT was actually just an agent of the Lich King… how clever the the Lich King….
When you get to KT its pretty much the same fight except DPS, tanking and healing requirements are reduced.  As well ads management is a little easier than before so you have less worries about that.  It was a particularly fun fight because it had ONE SHOT VOID ZONES.  A sort of no shit mechanic that will always scale with level.
Naxxramas was transformed from a once epic feat into a joke of an instance that no one wanted or cared to do.  After releasing this content blizzard quickly regretted it as it did nothing to meet the goal of the dungeon.
My Being Beaten in a Jousting Match Was Merely a Setback
I know this isn't a raid boss but it is a pretty important boss in Wrath of the Lich King.  The Black Knight first appears as a noble knight you meet while doing the Argent Tournament quest line.  As you are doing it you find out he is not so noble and is in fact… an agent of the scourge.  You have to go through this long annoying quest line to find this out.
So you challenge him to a jousting match which you win.  Then he forces you to go hand to hand and you beat him there too.  Then he just runs away and for whatever reason you don't follow him or shoot him with a fireball or anything.
He shows up again in Trial of the Champion (5-man dungeon) where you have to beat him in a three phase fight where he is constantly losing body parts and telling you he didn't need those anyway.
Honestly just compare these two videos, same thing:
I can honestly not say whether it was intentional or not that these two fights look exactly the same.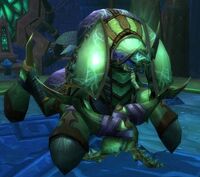 In this same content release you see the recycling of another more important character, Anub'arak.  If you're not a WC3 fan then you probably don't realize how important of a character Anub'arak is.Anub is a servant of the Lich King who comes to Arthas' aid to quickly bring Arthas to the frozen throne.  Anub and Arthas conquer the Ancient Kingdom of Azol Nerub in order to get to The Frozen Throne.  Anub stays behind to fend off a group of alliance who are trying to get to him.  Anub is so powerful that he is able to fend them off and maintain his hold on the kingdom of Azjol Nerub.  In future Anub gives Arthas access to many Nerurbians to raise.  Of course if you've been to Outlands you cannot find any non-undead Nerubians anywhere.  A once powerful empire falls to one undead Nerubian.
Of course most importantly you get to PLAY as Anub and kick some ass.  Anub actually stays stronger than Arthas for the entire game.
It is of course a shocker when you find out that the most powerful Nerubian in Northrend is…. the easiest fricking boss in the game.  Yes poor planning on the part of blizzard Anub has become so weakened that he lost the Old Kingdom to some Old God worshippers.  On top of that he's one of these bosses that can be killed in under 3 minutes with no raid level gear.
Blizzard eventually admitted that this was a misstep on their part and brought Anub back for the Trial of the Crusader as the final boss.  It's a theme of Wrath that Lich King can bring back his minions from the grave.  Apparently Anub wasn't as weak as we thought he was.  He apparently has these massive underground tunnels all over Northrend including the tournament grounds themselves.  When you go to fight him he is bigger, stronger, and has new abilities.  Another one of these story line changes that makes no sense… if he could have killed you before with full power why didn't he?  This was blizzard's failed attempt to give an important lore character a more important role.  A person who hadn't played WC3 might assume that Anubarak from Naxxramas was the lord of the Nerubians.
My Beheading Was Just a Setback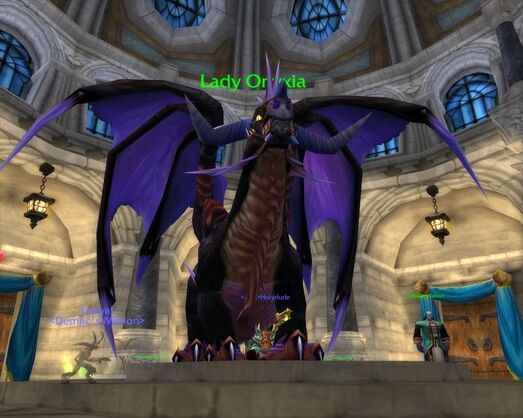 Let's take this back oh, five years ago.  Everyone is excited that blizzard has introduced the matchmaking system.  Yes.  You go to a stone.  You right click on the stone.  You get put in queue.  You now wait for 4 other people to right click on this stone.  It doesn't matter what the group make up is, just any five people right clicking on the stone… great system.  This eventually gets replaced by summoning stones but for now this is the greatest thing in the patch… oh there's also Onyxia.
Onyxia for it's time was the coolest thing possible.  It was an insanely dynamic fight that was PUGABLE.  It was a one-boss dungeon with very little trash and very few raid requirements.  Not having an enrage timer meant the opportunity for people to mess up was quite high during successful kills.  Onyxia's lore is one of interest.  Onyxia is the broodmother of most of the black dragonflight.  Onyxia is also the sister of Lord Nefarian who was the final boss of Blackwing Lair.  Onyxia drove the orcs out of southern Dustwallor Marsh in order to give birth to her children.  You were tasked to go in there and slay her and her children so that another Nefarian would not be created.  Onyxia of course  is the consort of Deathwing who emerges only to aid in the birthing of his children.
After you slay Onyxia you cut off her fricking head.  It's pretty brutal.  You give it over to some people in Stormwind/Oggrimar and they give you an epic for it.  Blizzard re-released Onyxia for level 80 with some ultra-craptacular loot.  It was designed to try and fill in gear gaps from the poorly designed Crusader's Colosseum.    Of course people rarely wanted this crap so no one really ever did this dungeon for anything but pure boredom (or gearing alts).  Keep in mind, the re-release of Onyxia makes sense because Sartharion is also a Deathwing consort who is doing the exact same thing as Onyxia (protecting the eggs).
Nefarian is also beheaded.  Nefarian's story is also quite interesting.  Both Nefarian and Onyxia had human forms.  Onyxia used her human form to seduce Highlord Bolvar Fordragon and get him to move his forces away from Blackrock Mountain and Duskwallow Marsh (the lairs of Nefarian and Onyxia respectively).  Nefarian used his human form to corrupt the horde converting the Blackhand orcs to his cause.  Nefarian was also powerful enough to capture many of Ragnaros' elementals and use them against him.  Nefarian's master plan was to create a mind control machine that would allow him to take control of first the black dragonflight.
Well much like Onyxia (actually exactly like Onyxia) Nefarian gets beheaded, many a times.  So when we see Nefarian is not only back to life and has a fully functioning head we start questioning things.  Then we see that Onyxia is back to life… and also has a head.  Something's fishy here.  Here's the best part, blizzard got lazy.  They decided to just not invent a back story as to why Nefarian is back to life.  Not only is he back to life but he has some how managed to create a whole brand new laboratory that no one noticed.
So far 3 Onyxia's and 2 Nefarian's.  But don't worry, their beheadings the second time around is just a set back.
Honorable Mentions
Not all recycled content in this game is boss encounters.  There are so many people that we have killed in this game that seem to just show up again for all the nerds to go crazy about.  They include:
Archmage Arugal: You kill him in Shadowfang Keep and now he's magically being resurrected in Northrend.  How did his corpse get there?  Why does anyone care about this mage who got killed by some level 21 scrubs in greys?
Blood Prince Council: Even though you kill these guys in quests its not fair to call this "recycled content" since the boss fight and its balancing is unique.  Had each appeared one at a time there might be some arguing, but the boss mechanic with shared health and raid reactions is unique.  You do however kill each prince while questing and dungeoning.  The first one is killed in Borean Tundra as the final quest for the zone.  The second boss is a fanatic in Old Kingdom.  The third prince is the first boss of Utgarde Keep.  If you have done them individually you can appreciate how much work blizzard actually put into the raid encounter.
Sinestra: Sinestra appears at the Netherwing rep area and gives this huge speech to the orcs that Deathwing demands them to find "the eggs" and he wants them back.  Of course the Netherwing are stealing these eggs and raising these black dragons as nether drakes.  Sinestra of course DIES in WoW lore through fiction graphic novels.  But it's okay… people who play WoW don't read.  Sinestra is brought back from the dead in the hardest fights present in the game.
Elwynn Forest Was Merely a Setback (Hogger):